We have standard low cost 16x2 LCD display based on HD44780.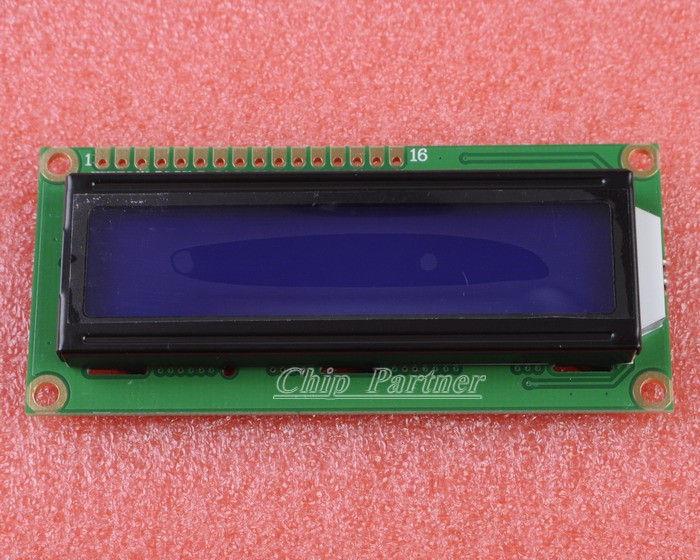 Ebay cost 3.83 USD
http://www.ebay.com/itm/1pcs-1602-16x2-HD44780-Character-LCD-Display-Module-LCM-blue-blacklight-New-/251049844026?pt=LH_DefaultDomain_0&hash=item3a73bc9d3a
With according datasheet
http://www.openhacks.com/uploadsproductos/eone-1602a1.pdf
display Power Supply is 5V.
Input High voltage 2,2v allow us send datas 3.3v directly to data pins DB4-DB7.
In our system we use 4-bit mode.
Depend of power of your USB port you can connect Vcc & GND:
or directly to DISCOVERY
or via external supply 5v (in this case Vcc -> external +5v, GND -> LCD GND + -> DISCOVERY GND)
In any case all GND must be connected and have same level!
Working system on final:
General troubleshooting:
1. You can start with connection only first 3 pins and adjust Contrast via 10KOhm adjusted resistor. After see full first string of bars connect others.
2. Adjusted resistor i connect one pin to +5v, second to contrast, third to GND.
3. Some display do not have Back LEDs.
4. With external +5v on RESET some times require reset LCD before reset board.
5. pin #5 - R/W pin - should be connected to GND. So, there should be
three
GND pins and two +5 pins.
Hope this enough.
P.S. This display can be upgrade by IIC/I2C/TWI/SPI Serial Interface Board Module Port for Arduino 1602LCD Display
http://www.ebay.com/itm/IIC-I2C-TWI-SPI-Serial-Interface-Board-Module-Port-for-Arduino-1602LCD-Display-/141146290709?pt=LH_DefaultDomain_0&hash=item20dcf97a15